Inspiration was led by Jamie, and included several humorous Covid thoughts such as
Who would have ever thought "I wouldn't touch that with a 6 foot pole" would become a national policy?
The best way to not touch your face is to hold 2 glasses of wine.
Anjana Bose was our welcoming greeter. Guests included Hal Rosen's wife Lydia. Marty's guest was new member Rebecca Alvarez, receiving her Red Badge and giving a short bio. She lives in Scotts Valley and works for West Valley College and has event experience. Also we were honored to have Suzy Erekson and daughter Amy, who told us Charles chose the Los Gatos rotary Scholarship fund to receive funds.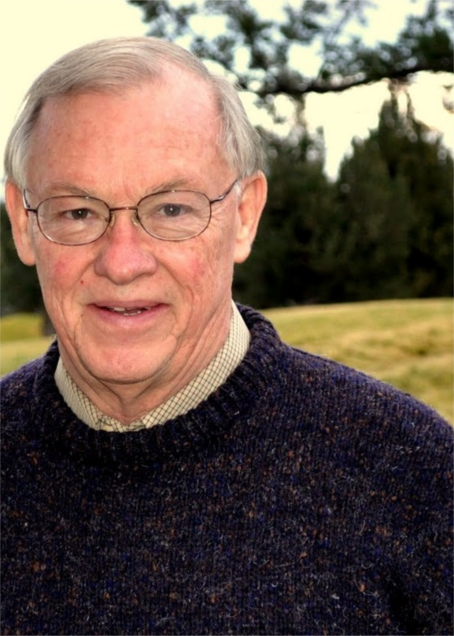 We were all deeply saddened to lose long time Rotarian and friend Charley Erekson last week to cancer.
Many members shared their memories.
Tom O'Donnell shared that they spent many hours on the Planning Commission together, and that Charley was remarkable, intelligent, and courteous always. He also had a distinguished career at Santa Clara University.
Tina remembered him as an advisor extraordinaire, as he helped her on many improvement projects when she was Club President. He had great wisdom and new how to have fun and innovate. She is very sorry to see him gone.
Andrew Howard and Nicholas recalled he was a gentleman and thoughtful and welcoming to new members, despite sitting at the bad boys' table in the back.
Dan Snyder recalled he was always warm and encouraging.
Grady remembered they enjoyed a good-natured sports rivalry, and that he was light and lovable.
Andrew Stearns said if you asked Charley how he was, you better have an hour. He would come back for the CrabFeed after retiring to Oregon, and he will be sorely missed.
Art recalled Charley as a great travel partner and friend and he misses him.
Suzy and Amy shared the details for the online
Celebration of Life Event on May 2
. You can view the invitation for Charley's Celebration of Life Service here by clicking
here
.
Marlon noted the Rotary anniversaries, including long-timers Andrew Stearns (25 years) and LeRoy (41 years). Rounding out the group are Dan Snyder (8), Riley (3), and Lydia (1).
This week's virtual background challenge was your favorite movie, and included…
Andrew Stearns- Ferris Bueller's
Doug Brent- Indiana Jones
Mike Norcia- Blazing Saddles
Patti- Idiocracy
Michelle MN- Harold and Maude
Haryl- Vertigo
Hal- Moonstruck
Rachelle- Amalie
Lydia- My Fair Lady
Nicholas- Money Pit
Tina- LadyHawk
Butterfield- Animal House
Gordon- penguins?
Greg Smith- One Flew Over the Cuckoo's Nest
Jamie- Wizard of Oz
Dan Snyder- Blues Brothers
Meghan- Harold and Maude
Nicholas encouraged all to join
the district's virtual training assembly
4/26-5/6. Details on the
district website
.
Our speech contest winner Dessy Bonev from Leigh
is heading to the District Finals 4/24. Watch the contest to support. Details on
district website.
Bag lady Tina says St Luke's has enough bags now…no more needed at the moment.
The Cat Tale committee needs more note takers. See Patti if interested.
First Thursday for May
is at
Darling Fischer,
hosted by Nicholas. It will be a bring your own food event.
Barbara and Marty delivered their first batch of donations to Santa Maria Urban Ministry. This is ongoing so drop items during business hours at Marty's office (431 Monterey Ave, LG). Thank you all who donated!
Hal introduced speaker Tom Geballe, Astronomer at Mona Loa Observatory in Hawaii. They are old college friends from UC Berkley physics days in the late '60's. His topic was "Why is the Night Sky So Dark? What's Happening Between the Stars?"
The sky is dark at night – this is a fundamental observational fact of cosmology that can be observed by everyone. It also is fundamental to our existence, to our physiology, and to our cultures. The apparent answer to the question "why is it dark at night?" is that (1) the sun is shining on the other side of the earth and (2) the light of the distant stars is much weaker than the sun. But how can the second answer be so when there are so very many stars and they have been shining for so long? And how dark is the sky? And is it dark only to eyes like ours that are sensitive to visible light, or is it also dark to infrared, ultraviolet, x-ray, and radio "eyes"? I will discuss these questions as well as the historical scientific attempts to understand this simple and important observation.
Tom Geballe is an Emeritus Astronomer at the Gemini Observatory, in Hilo Hawaii. He received his bachelor (1967) and doctoral (1974) degrees in physics at the University of California, Berkeley, the latter under Nobel prize winner Prof. Charles Townes. Following postdoctoral appointments in physics at U. C. Berkeley and at Leiden University, and a Carnegie Observatory Fellowship in Pasadena, he joined the United Kingdom Infrared Telescope (UKIRT) in Hawaii in 1981 as a staff astronomer and then became Astronomer-in-Charge, Associate Director, and Head of Operations. His research interests include the Galactic center, interstellar gas and dust, star formation, novae, supernovae, unusual evolved stars, brown dwarfs, and the surfaces, atmospheres, and aurorae of solar system planets and moons.